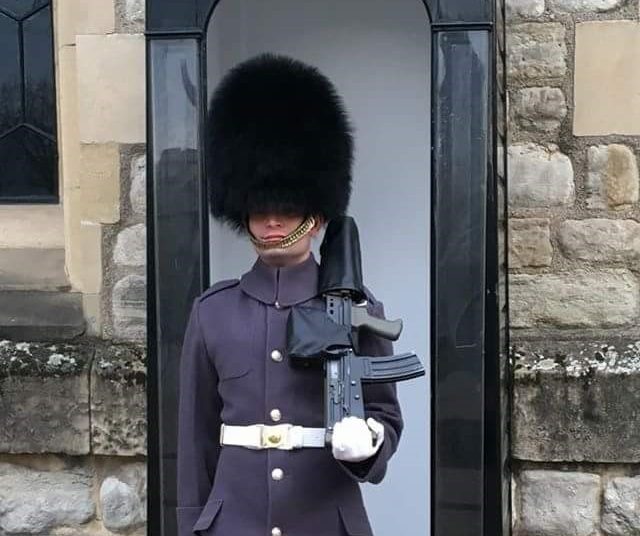 23 August
We recently caught up with Matt Brown who came to Helm as a Pathways student aged 15.
Matt worked hard while at Helm to progress into a career in the armed forces, joining the Scots Guards.  No one was more excited than staff at Helm when we received our first pictures of Matt in his bearskin, standing guard outside Buckingham Palace!
During his time at Helm Matt not only worked on his academic qualifications, but under his instructor's guidance he also made use of Helm's gym facilities and on-site trainer to build up his physical strength and endurance in order to pass the army entrance requirements.  He feels that Helm is a great organisation for people who are not suited for mainstream education and that it offers an opportunity to learn in a more relaxed environment. Matt now dreams of giving back to the next generation of students.  He says his dream job, when he eventually leaves the armed forces, would be "to work at Helm."
How is life treating you now?
Matt:  I am loving life now.  I am well-travelled and have money in my pocket.
What are you up to these days?
Matt:  I am working away most of the time and am getting moved from London to Aldershot which I am looking forward to.
What brought you to Helm?
Matt: I misbehaved and had bad attendance at school. When I came to Helm the staff treated me with respect and it was easy to speak to them. There was more encouragement to get qualifications and I enjoyed activities such as the gym to build up my fitness to join the Army.
What was the best thing you got from Helm?
Matt:  Confidence.
Would you recommend it to other people who were in a similar position to the one you were in when you first came here?
Matt:  Definitely and I have!
Would you be willing to come back to Helm and give a talk to students and staff about your experiences?
Matt:  Yes the next time I am on leave I will come in and speak to staff and students. I would highly recommend the Army as I am having a great life now and am glad I have done it as I have learned so much and have a great social life as well.