Going to college
Going to college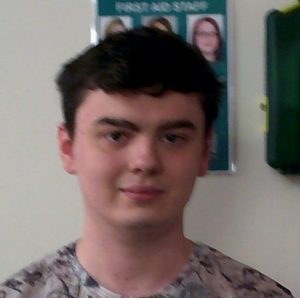 Liam and Callum are bright, articulate young men who are leaving Helm following successful completion of their employability programmes. They are on the verge of their chosen careers in vehicle engineering and marine science, and have places starting at Dundee and Angus College at the end of August 2017.
Both are from areas in Dundee which are ranked in the first and second highest deprivation deciles respectively for employment and education. Liam and Callum talked to Helen, Helm's CEO about their experiences, aspirations and their hopes for the future.
Why did you choose to come to Helm?
Both Liam and Callum had already been to college before coming to Helm.
Liam had tried an entry level vehicle course straight from school but then left without any clear idea of how to progress or find an apprenticeship. Liam then came to Helm because he said he wanted to have a positive place to develop while he learned some new skills, and had a chance to become a bit more confident and knowledgeable about how to progress into a job or apprenticeship in an area of real interest to him. His brother has failed to do this, and is "just at home, on the brew" and Liam said he had no interest in ending up like this, dependent on benefits. Liam was particularly attracted by Helm's training garage work experience opportunities.
Liam loves practical work, and engineering, and after working with Helm staff and spending time gaining more skills in the training garage, he has now decided to go back to college to study his SVQ2 Engineering. He actually passed the diagnostic tests for another higher level course, but chose not to do this as it he had discovered it was a mainly theoretical course and his preferences are strongly practical. He says this was a hard choice because the higher level course leads to University, which he recognises is an opportunity for him, but at this stage he has decided instead to be looking for an apprenticeship from as early as February next year, before he finishes his course. After completing employability training at Helm, which includes job search and interview skills, he says he now feels much better prepared and much more confident about how to do this, and also feels he will have more to offer an employer, and be better able to compete with others after a period of further study.
Callum had gone to Perth UHI studying social care but had had to leave before completing his course for health reasons. Callum had then tried to get any form of work, and kept failing to get a job, despite volunteering experience and basic qualifications in catering. The Job Centre recommended Callum applied for a place with Helm to support him in deciding what to do next.
After exploring his options and interests with Helm staff, Callum has now decided to study Marine Science, and is therefore aiming for University. He has mapped out his progression route and knows he will be able to transfer from his Applied Sciences course to an HNC course next year, subject to performance and gaining more than 80% attendance, which in turn will then lead to a number of options including a place on the Marine Sciences degree course at Edinburgh Napier, and there are also options at Aberdeen, and other Edinburgh Universities.
Did you know what you wanted to do before coming to Helm?
Liam said he was clear in his interests and passion for practical hands on skills, while Callum said it took him a while to consider his next direction. Both explained school had not provided them with enough in the way of career development or support, and both expressed frustrations with what they called "teachers' logic" ie. teachers' inflexible attitudes to their learning styles, in particular the disinclination to encourage any alternative approaches to problem solving. Liam commented that school "was just not for me" and also explained that timetabling restrictions sometimes meant the subjects students need for the career they are interested in cannot be made available at a particular school, which can seriously affect motivation and futures.
How hard was it to get into college?
Liam said he had a relatively good experience this time (Helm staff support the whole process), although he was struggling a bit with the requirements of the bursary application, and was worried about the timing of correspondence between agencies which has to happen by a specific deadline to ensure that his payments will not be withheld or possibly forfeited. Callum said he had also had a good experience at his interview this time, due to his increased confidence now, interview skills coaching from Helm staff, and the fact he was much clearer about what he wanted to do. He agreed the bursary process was really complicated, and had not been able to complete this online, but instead had to go to the college and was supported by staff there to complete this, which he was appreciative of. Liam said he had coped well with the group assessment process, and found no difficulty demonstrating his aptitude on the diagnostic tests.
Callum and Liam agreed that in general college interviews were stressful, and said some assessors seemed disengaged, and they would have both preferred interviewers to have been more open and friendly. Both had experienced time pressure during the process (including a timed two minute interview!), although they recognised college staff were doing their best to work through a large number of applicants.
How did you feel when you were told you had a place at college?
Liam and Callum explained college is just a necessary link for them to get to their next stage of their careers, and therefore while they are happy this is now in place, it's not a cause for celebration yet – they realise there is much still to do to get into their chosen careers.
Why do you want to go to college, instead of getting a job?
Liam described himself as "just not ready yet" for a job, but knows he is now a great deal more confident than after his first course, and after working at Helm will be better placed to find an apprenticeship when he completes this one. He said that college was a better option for him than a job just now because he needed more time to develop as a person. He wants to learn more so he can be more useful to an employer, and he also said he thought he should spend more time learning so he would be less likely to make a mistake. He said –  "its different at college – you are there to learn – but if you get it wrong at work, you lose your job"
He described college at the moment as his "safety net" – a place where he can learn and develop, and continue to gain skills, without fear of sitting at home "on the brew", while at the same time he looks hard for an apprenticeship.
Callum said it was necessary for him to go to college, because having now identified his career aspiration, his route meant he had to get to University, and therefore college was a required step on the way.
What do your families think about you going to college, and your plans?
Liam said his parents were very supportive, understood why he is not going straight on to a job, and are just very glad he is doing something he is passionate about. Callum said his family are proud, and his grandparents in particular are excited about someone in the family wanting to go to University.
From your point of view, what else do you think Helm could be doing to help?
Callum suggested offering higher level skills would help those who wanted to get onto courses where perhaps a Level 6 skill was required.
From your point of view, what more could college be doing to help?
Offering more courses which combine theory and practical skills
Taking more time and being more open and encouraging during the interview process.
Less complex bursary application process
Is there anything that worries you about college?
Liam worries about finding an apprenticeship, but is reasonably confident about the coursework and life as a student, providing finances fall into place in time for him. Callum worries about the workload, and remembers previously the pressure of working on his own without support over holiday periods.
What difference will having a mentor make do you think?
Callum says he is happy to have been able to be matched with a mentor (a manager from Tokheim) and believes this will be helpful for him, particularly if things get stressful.